Stuck in somebody's frames? Click here to Break out!!
Ron's Camper Van Conversion
The Begining of a Home Homebrewed Van Conversion.
...My 1979 Chevy van was purchased used in 1995. At that time I was a paint contractor,and used it as my work truck for 5 years.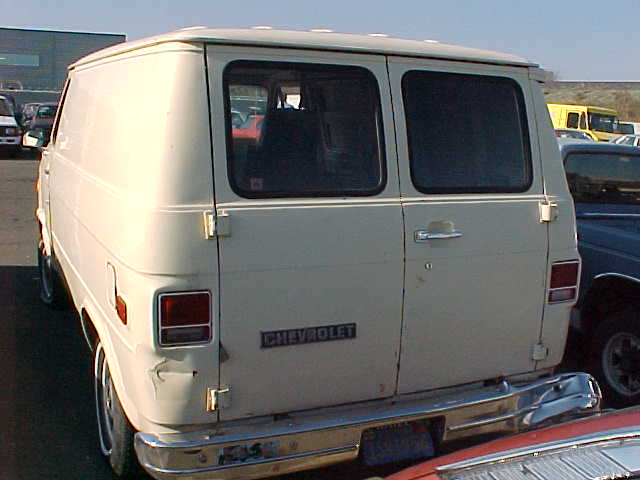 It was all white inside and out, and was equipped with plywood shelving that I built to carry paint tools and equipment to and from the job. I also had to repair some rust damage, and a few dents. Not to mention drive train work, new brakes, new tires and such. In the winter of 2000 after a year long illness, and a sudden 90 pound loss in weight I had to give up my contracting business. It was then that I decided to make it into a Camper Van. By this time it was in need of almost all the same repairs as the first time. So I began a repair list and did them one at a time until I had the van in top running condition again.

...My next step was to gut the interior of its shelving, paint stained carpet, seats and anything else that would remind me of it once being a work van. So after finishing that chore I gave the stripped out interior of the van a good scrubbing, and left it alone at that point until I could decided how I wanted my camper compartment to be laid out. And exactly what comforts I wanted in it. I sketched a few floorpans and ideas on paper. Being a tent camper for most of my life, It was time to put some of the comforts back into my camping. After much thoughtI came to the conclusion that I would need to do some more reasearh on this. Right now, I was anxious to get started on the outside of the van, before the coldest part of winter would have a chance to set in.
A New Look For An Old Workhorse:
...The First thing I wanted to do was change the apearance of the van,so it wouldnt look like an old worn out work truck. I decided to change the paint scheme from the solid white, to a two tone and then add some pin stripes. picture #3 Keep in mind its winter time, and this whole project is being done in my yard by me alone. On sunny days when the temp was well above freezing mark, I would repair, tape, sand, and paint on the outside of the van. And on colder days, I would work on the inside of the vans camper compartment...As you can see in the full size photo's, The top blue band will need another coat of paint, maybe even two so it will match the bottom blue band. Which has already had three coats. picture #4 The top band was where my lettering for my paint business was. I had to re sand after 2nd coat, cause it kept showing through. Hopefully the next one will do it. But I will save that until I can get a crank out window with a screen installed in the sliding door, So far I havent been able to find one yet.

In addition to the painting, I have installed 4 brand new Mud & Snow white letter Wilderness Tires. A set of push out windows on the rear doors, with screens that fasten on the inside with velcro. Thats a must when camping, so you can leave the windows open for air, and still keep out the insects. I also installed a set of diamond plate aluminum running boards. A smoke colored bug deflector on the hood, a high powered set of fog lights for bad weather and night driving. A crank out roof vent with screen , in the roof of the van. (This is a must also) if you plan to cook or heat with propane like I do. At this point I decided to start looking in auto salvage yards, for a junked conversion van that had its fiberglass hi-top still in good condition. I found a few that still had the rear door tire carrier, and bolt on ladder for the other door. So I went ahead and bought them, and installed them. All during the winter about once a week, I would check all the salvage yards in my local area. I finally found several, but they were on Fords and Dodges and would not fit my chevy van. Eventually a GMC Van that had been rolled turned up. All the measurments said it would fit perfect. It was even taller than any of the others that Id seen so far. Only thing was it was damaged pretty bad, maybe too bad. The man said if I would take it off myself, I could have it for a \\$100.00 bill, but he doubted if I could repair it. Well guess what? I now have a very tall Hi-top stored away for the winter. Thats going to be a whole new project next year.
Camper Compartment Trials & Errors:
..Right now I am committed to to trying to get the camper compartment area of my van into some kind of shape before spring, which is rapidly aproaching. So even if I dont get the outside of the van finished on time, I will still be able to go camping. So I wired the camper compartment for 110 and also for 12 volt. The 12 volt system in the camper compartment is seperate from my main 12 volt battery that starts and runs the van. I installed a battery bank made up of two 12 volt deep cycle marine batterys paralelled together. I bought a power inverter/charger. Some 12 volt outlets, a 12 volt cielling light, a 12 volt fan and a 12 volt ac/dc tv. This Photo will show the inside view of the camper. It was took sitting at the table in the rear of the van.The table folds down into the bed area, when not in use. But generally if im not camping, I leave the table up.

Check back often, This site will be updated soon! Due to illness I havent been able to update, except for the new website format. (Hopefuly it will load faster).Stay tuned there is much more coming soon, I promise!



Copyright © 2001,2002 By Ron Shurman All Rights Reserved
See Copyright Notice at the very botom of this page.